Why I wrote this article, because I found an email from my inbox, the content in summary as below:
"Hi, Ronnie,i have some questions. Because I want to buy a new wig, but I don't know how to decide. As I know, the synthetic wig is cheap, and real human hair is a little expensive. I don't know how to choose the right one. Can you help me?"
"Sure. I am so happy I will help you, sis."
Different wigs showed different styles, colors, waves, and lengths. Here 9 steps can help you decide which one is best for you.
1. Wig's raw materials
The raw material of human hair wig is real human hair. There are many kinds of human hair, such as Chinese hair, Indian hair, etc. There's a big difference in cost.
Many factories use chemical fiber material to make a synthetic wig. Or the high-temperature protein silk made wigs and so on.
Significantly, A kind of imitation hair is made from chemical fiber silk. High-temperature protein silk is an upgraded version of chemical fiber hair. The anti-static degree is much higher than chemical fiber hair. The high-temperature resistance degree is also much higher than chemical fiber hair.
2. How do I know if he's a real human hair wig?
The easiest way to choose which it's real human hair is to burn it as we know it. If you're not sure, the wig you're holding is natural hair. Or if you want to verify that the human hair wig you paid more money for is real hair?
Now find a lighter or matches. If you don't have, you can turn on the stove (But I am not recommended in this case), cut a small cluster of hair from your wig. Then turn on your lighter now, burn your matches, light the hair and burn it, and then put it in water.
After taking it out and twist it with your hand, after burning is small ash or a small lump of a piece. The hair after burned is ash. It's showed real human hair. Otherwise, it's a synthetic hair wig. We'll update this with video and illustrations of hair tests later.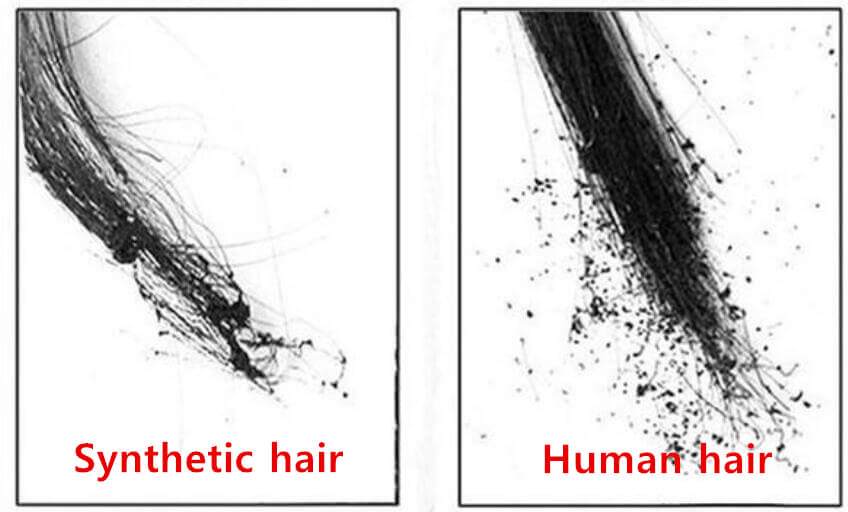 3. Different kinds of wig's lace materials.
Lace wigs net bottom use import lace from Korea, Switzerland. With the high-quality permeability, also has antibacterial.
Synthetic hair wigs laces are thick and heavy. Breathability is very poor, with no antibacterial. It feels very stuffy and rigid.
Especially in the summer, or the weather is a hot situation. The human hair wig is better than the synthetic hair wigs cover.
4. Human hair wig is more expensive than synthetic wigs
Real human hair costs are more expensive than synthetic hair. If you are interested in a longer length of human hair wigs, the more expensive you will pay. But as far as I can tell about synthetic wigs, the longer and shorter versions cost about the same.
5. In a variety of wigs texture and shapes
The chemical fiber hair wig is afraid of high temperature and is not easy to shape. There is another kind of high-temperature protein wire, which is also a kind of chemical fiber. The degree of high-temperature resistance is higher than the ordinary chemical fiber cover. You can use an electric curling stick and electric splint to 90 degrees Centigrade for styling.
For real human hair, the temperature of the styling should not exceed 200 degrees Celsius. Which means that it is not a problem within 200 degrees Celsius. Within this degree, you can do different kinds of hair waves, like body wave, loose wave, etc.
Never use a curling iron above 200 degrees Celsius; otherwise, you will hurt your wig.
6. About dye your hair wigs
Be careful when you dye your human hair wigs.
When you ready to dye it, please care for the hair's root to stay at least 0.1-0.3cm can not stain. If not, you will dye paste on the wig's lace bottom. It's a little difficult to wash it clean.
Slogan: The low-quality hair, the faster dye the hair.
7. The human hair wigs are more comfortable.
Because of the unique characteristics of human-made Fiber. The synthetic wigs are uncomfortable. The chemical fiber lace bottom is hard than human hair lac. We found the synthetic wig lace is coarse, impermeable, low antibacterial. Also, It is effortless to cause scalp problems and other problems. But the advantage is the price within the acceptable range.
First, we recommend here is the 100% real human hair wigs.
The real hair lace cover is more comfortable. In the first place. The advantages of 100% human hair wig lace are high breathability, good antibacterial. Because there are very few scalp problems. Even you can ignore it. Second, in hot weather or the case's sensitive constitution. When you are wearing a real hair wig will not feel stuffy, the scalp will get fresh air.
8. How to care for your human hair lace wigs
Wash the hair in one week.

Water to wet hair, use a mild Shampoo, Rinse and leave to dry.

Comb with a wire brush after dry.

You do perm dyeing, but please remember, do not do this too frequently. And remember to use the nutrition water.

You`d better choose the round comb with a wide-toothed comb.

Don't make the hair under the blazing sun for quite a long time.

Don't blow the root of hairs too near with the hair drier.

Don't grasping the root of hair overexert when washing.
9. Lace wigs usage time
The use of synthetic wig time in 6 months to a year. The real human hair wig can be used for 3-4 years.
If you care about human hair wigs gentle and careful, the use time will be longer.
Where I can buy
You can choose on Amazon, eBay, Aliexpress, and LeHebeauty.
After reading this article, you'll be professional on how to choose your lace wigs. When you buy and talk to a hair vendor, and nobody can lie to you.