Are you confused about how to apply the false eyelashes, right? There are 5 simple steps to learn to wear your lashes right and quickly. Let us see the first step:
Mink Lashes Preparations
Before you ready to put on your lashes, pls prepare the glue, shears, tweezers firstly. And be attentive. There will be no glue on shears and tweezers. Otherwise, you will feel hard to use them. Then look down in the mirror, don't look frontal. You will ask which one is the right eye, and which one is left. You can put it on the frontal of the face, like this, and the right eye is right, the left is left.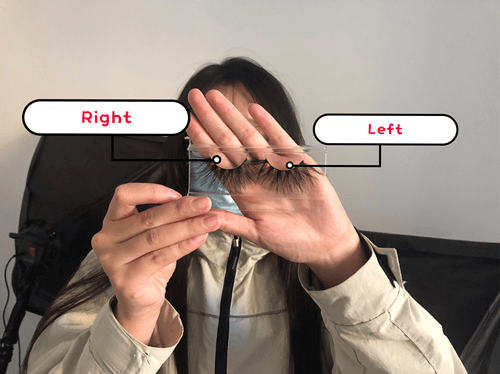 How to take your lashes out?
First, remove mink fur eyelashes from the tray with your hands or tweezers. Please do not tug on the fur, only handle from the band.
Now the lashes are on your hands, and pls don't apply glue now. Use your hand to make this movement, make it curves and flexible, and the band is softer. Then compare your false eyelashes to your own eyes. Put your false eyelashes in the middle of the eyes. You can find it longer than your eyes. (if someone doesn't know where is a start and where is an end. there is a pic you can see)if the false eyelashes closed to the eye inside, you'll feel uncomfortable. If too close to the eye outside, your eyes will look like no spirit.
Measure & trim your 3d mink lashes
Next, we'll use small shears to trim the lashes from the outer corner. Fit the lashes to the base of your natural eyelash line, trim any excess from the outer corner
Pls attention, if your false eyelashes style is inside is short, our corner is too long, as this moment you cut the inside corner when you put it on your eye, the inside corner lashes will be too long, it cant fusion with your real lashes. Your eyes will look strange. So trim redundant inside corner cotton band, and then trim any excess from the outer corner.
Use mascara before applying mink lashes or after
Then we can put false eyelashes on your eye to compare the length. Don't feel inconvenient. If you want to make your false eyelashes with your eyes more natural, we need Repeated comparison.
I get some feedback from customers and colleagues. Someone like using mascaras after putting mink lashes. Which use for synthetic and cheap lashes. But if you use mink fur lashes, when you put mink fur lashes on to your eyes and put mascara on your lashes. That will kill your mink fur lashes life.
Just
use an eyelashes curler to curl lashes first. Then mascara your real lashes before putting on false eyelashes.
How to Apply lashes
Apply lashes glue along with the entire cotton band and wait a few seconds for the glue to become sticky. Apply the lashes to your natural lash line base and hold for a few seconds for it to dry.
First, use your hand to make false eyelashes upward, don't make your new lashes downward. The glue will drop on lashes.
When applying glue, we can wait for 30-40s. You can shake it to push it tacky fast. When you use glue on fur lashes line in the meantime to put it on your eyelashes line. The adhesive does not become sticky. So you need to wait for 30-40. If the glue looks like translucence, pls put it on to your eye. Remember, put it in the middle of the eyelid. And then use tweezers to make your real lashes and false eyelashes together.
Use tweezers or your hands to make eye outside corner lashes with mink eyelashes together
. In the end, mix your inside corner lashes with your false eyelashes. And use eyeliner to fill up your eye line more natural.
This is an easy and good way to make you know how to apply your lashes, isn't it?
Did you learn it and try to wear your 3d mink lashes? It's helpful. If you agree with us. Please kindly share this article or article pics with your Facebook, Instagram. We want to help more people know how to apply their false eyelashes. And send us your share screenshot, you will get a thankful FREE mink lashes.